Uncategorized
Headshot How To
5 Headshot Wardrobe Tips for Success
Your choice of wardrobe can make or break a successful headshot. There are a lot of factors that go into the styles and colors that you choose. These tips will give you a guide to picking the perfect wardrobe for your headshot.
---
Solids aren't always the rule.
It goes without saying that solid colors are usually the best bet for your headshot, but this isn't always the case. A top with a flattering neckline and some color in the pattern or stripe that matches your hair or your eyes can make for a very successful headshot.
In these two shots the stripe and the flowers match the hair while the pattern's background flatters the skin tone. An unusual wardrobe tip but one that can work.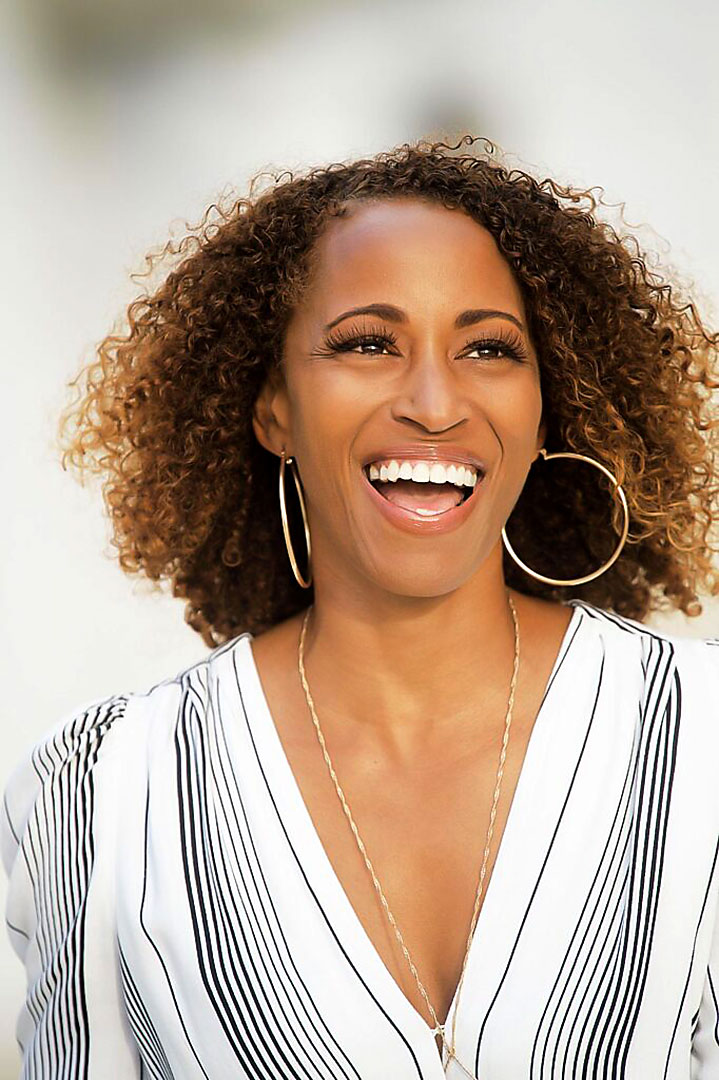 Pick your headshot wardrobe to match your eye color.
Generally speaking if your top matches your eye color your headshot photo will draw the viewer's attention to your eyes. This is what you want first and foremost. They say the eyes are the window to the soul – well at least to the character inside of you!
In this shot our actor brought a top with nearly a perfect match to her eyes as part of a more extensive wardrobe selection. This shot was one of her favorites.
Necklines and Shoulder Width
This is a big part of choosing an outfit for your headshot. Most of the time this is what makes or breaks the looks you are trying to achieve. The following are some tips based on your face and upper body structure.
Face type:
Shorter wide or round face- consider a narrower neck line like a tight v or crew.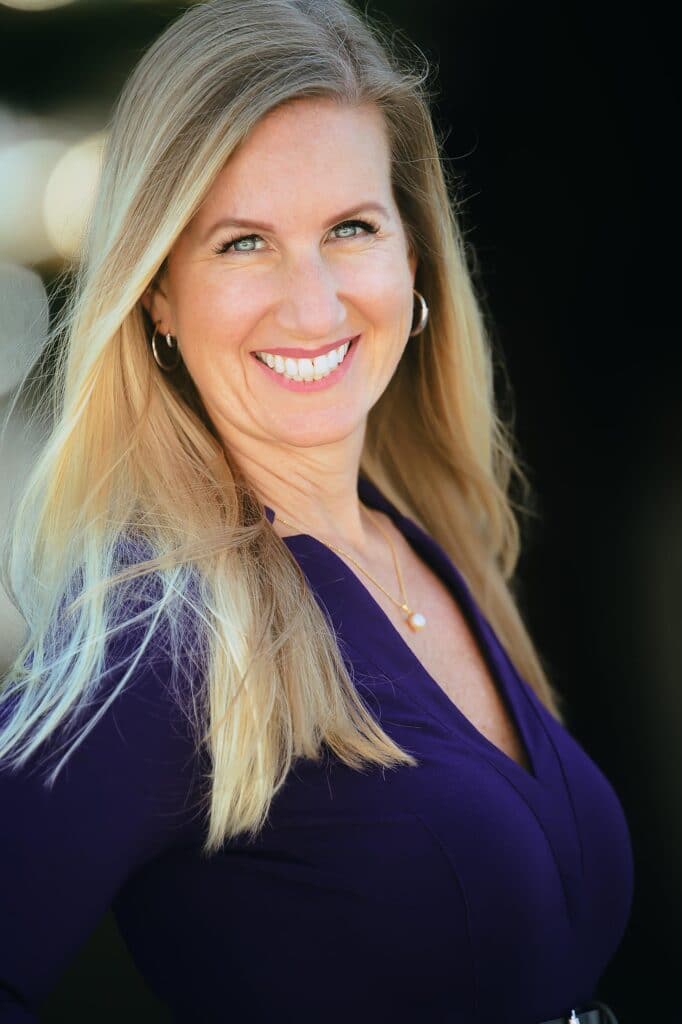 Narrow long face – consider wider scoop or even a wide v neck.
Neck
Long Neck – consider crew necks and even turtle necks.
Shorter neck – Wider, lower v-neck and scoop neck lines work.
Shoulders work the opposite. The wider your shoulders, the wider the neckline of your top and vice versa. This tip will enhance and not exaggerate your shoulder width.
One last tip – square neck shirts work great with a short neck and narrow shoulders.
Casual, Business Casual or Formal?
This is a question we get more often than any other. The answer just depends on your needs.
Business casual looks, with and without a sport coat, are more and more popular for business headshots these days. One key is finding a collar that sits well on your shoulders and does not flop into your neck.
---
---
---
For actors, a range of looks are the key and much depends on the types of roles you are pursuing and the type of character your specific look can pull off. Some actors are chameleons and can pull off many roles, while others meet a very specific genre. Find what you truly want to do, get some feedback from people you respect and then go for it.
Headshot How To
How to Loosen Up
For Your Headshots
Staying loose and true to yourself is one of the most important aspects of your headshot pose. Here you will find ways to loosen up and find that comfort zone to become your inner star for one of the most important aspects of your promotional headshot. Scroll down to learn more!
---
Get Off Your Butt!
Sitting for a headshot, while a good start, can get pretty stiff pretty fast. Try to get out of your seat and move. Get some air through your hair and keep the blood flowing. If possible find out if you can shoot some shots outside in the daylight. You can always go back to the original set and will have a better feel for what you are doing. Movement is the key.
In this shot we took a break and went outside into the late day sun with a gentle breeze blowing to get a more engaging joyful shot. Her choice of wardrobe also enhances the way she felt with a great neckline and flowing fabric. When we returned inside our model was much more engaging.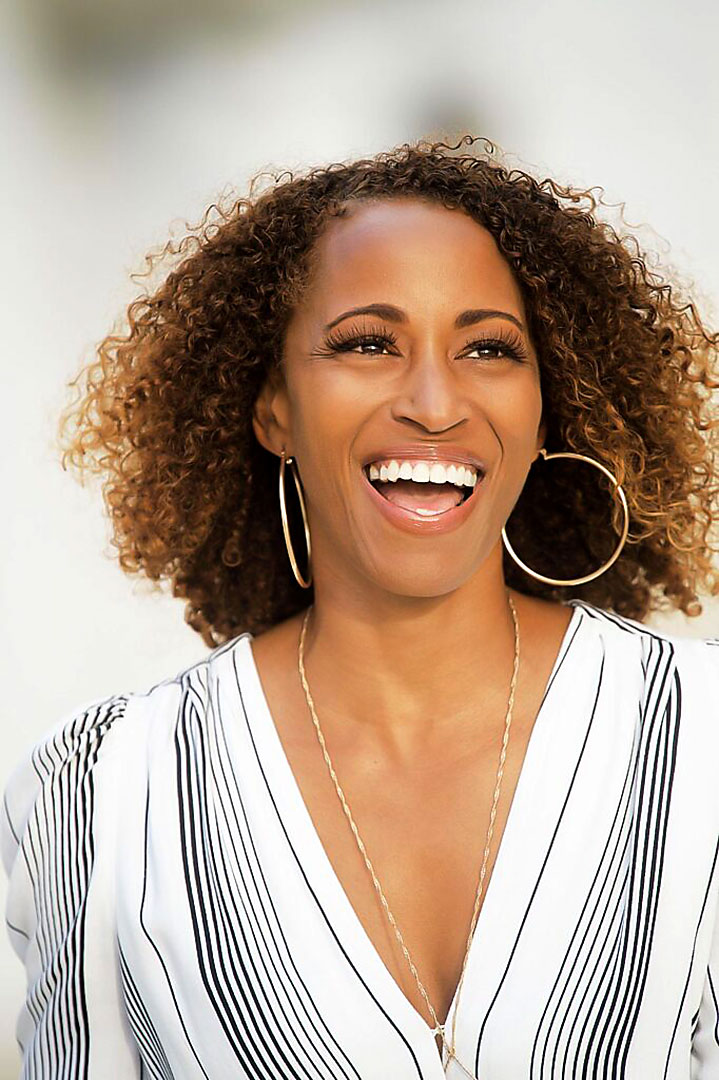 Get Into Character
Think of your favorite actor or role model here. What expressions do they have. What do they look like on the big screen. Are they famous for a certain look. Do an impression even if it's not very good, the exercise alone will allow you to loosen up.
In this shot our executive DID NOT want to be there. His company set up the shoot. When he arrived I could see some resemblance to great character actors and told him so. He actually loosened up right then and there. We went through some exercises where he role modeled some of his favorites and got this very intense shot – one of my favorites.
Jump Around!
Get movement by getting off your feet – literally. If you are able, try to find a place to get some energetic physical movement. Dancing, jumping or even a brisk walk will help with nervousness and flow. Of course shooting an actual headshot pose like this is difficult, the exercise will allow you to settle into the situation.
Duh, Music!
Music soothes the soul, calms the nerves, and inspires you to put out your very best. Putting your favorite playlist on the sound system or just tuning in on your headphones can give you an escape and the inspiration to get you started.
For this shot our model was part of our greenscreen project with his music playing over our sound system (headphones were props). Point is the music kept the shoot inspired.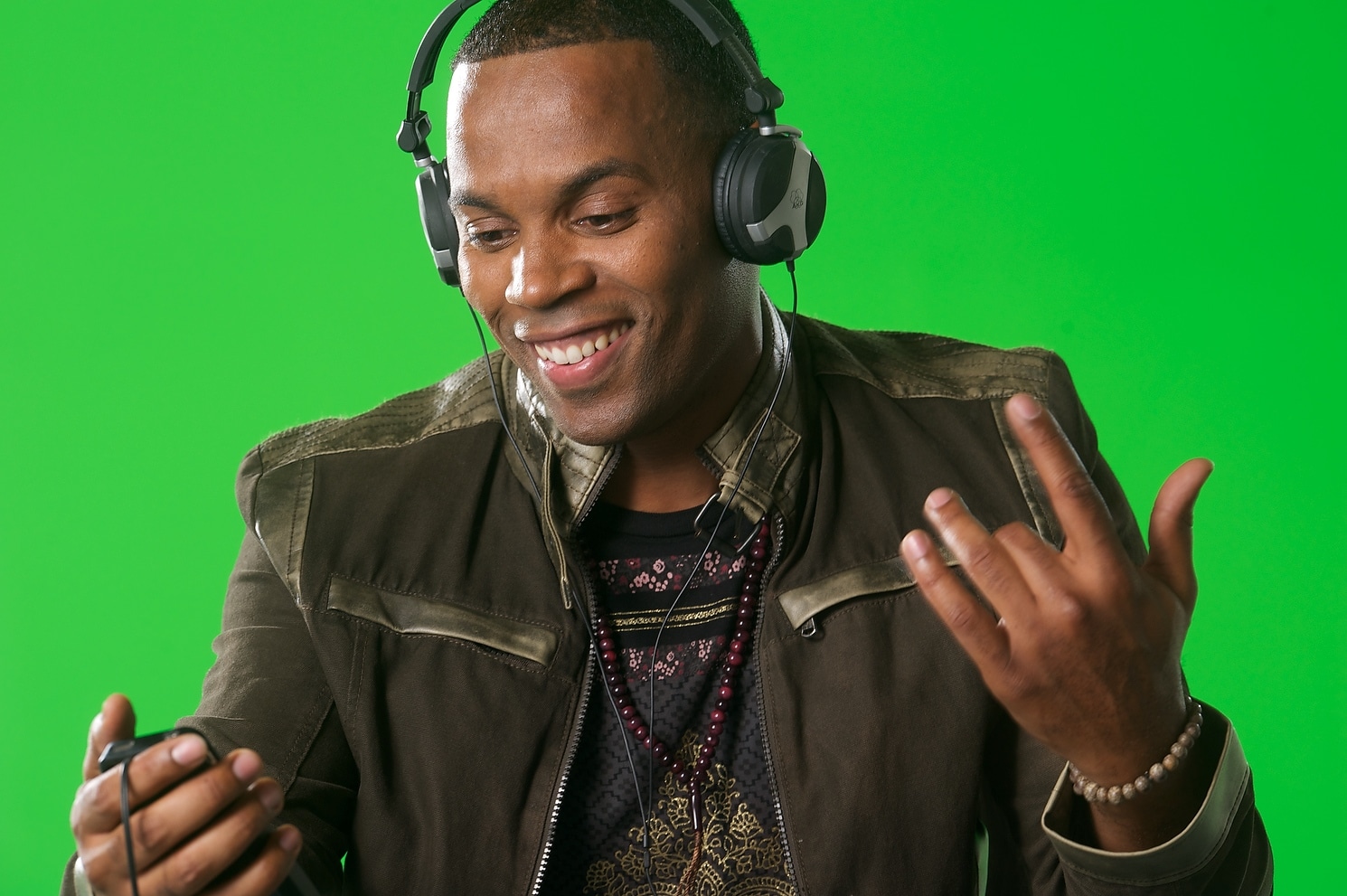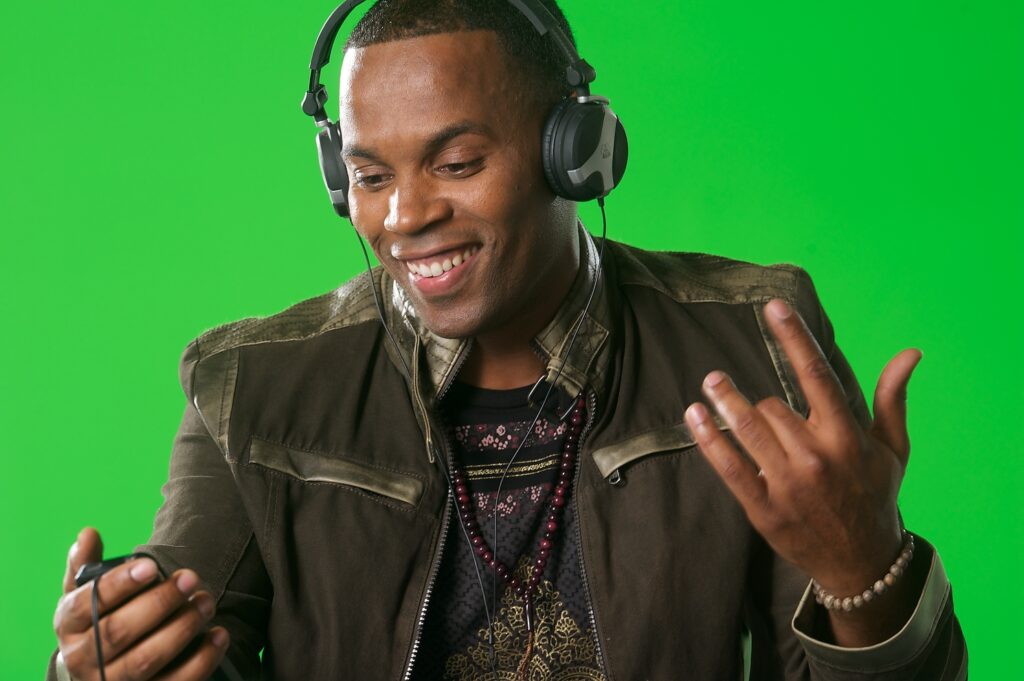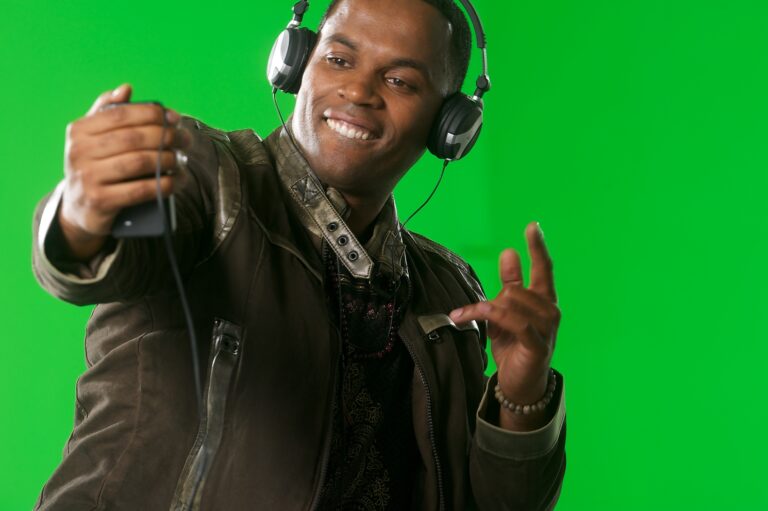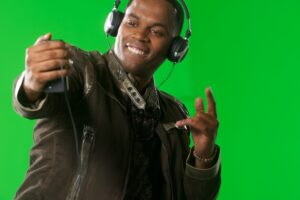 Shooting your headshots with a greenscreen background adds flexibility to how you use your images.
We've added greenscreen as an option for your headshot backgrounds. This allows us to customize your shoot to match your company's existing backgrounds. It also gives you flexibility for updating the look of your headshot by simply changing your background to match the tone and design of the published or printed media. As a result your headshots can have a lasting impact on all of your promotions.
Check out the examples below.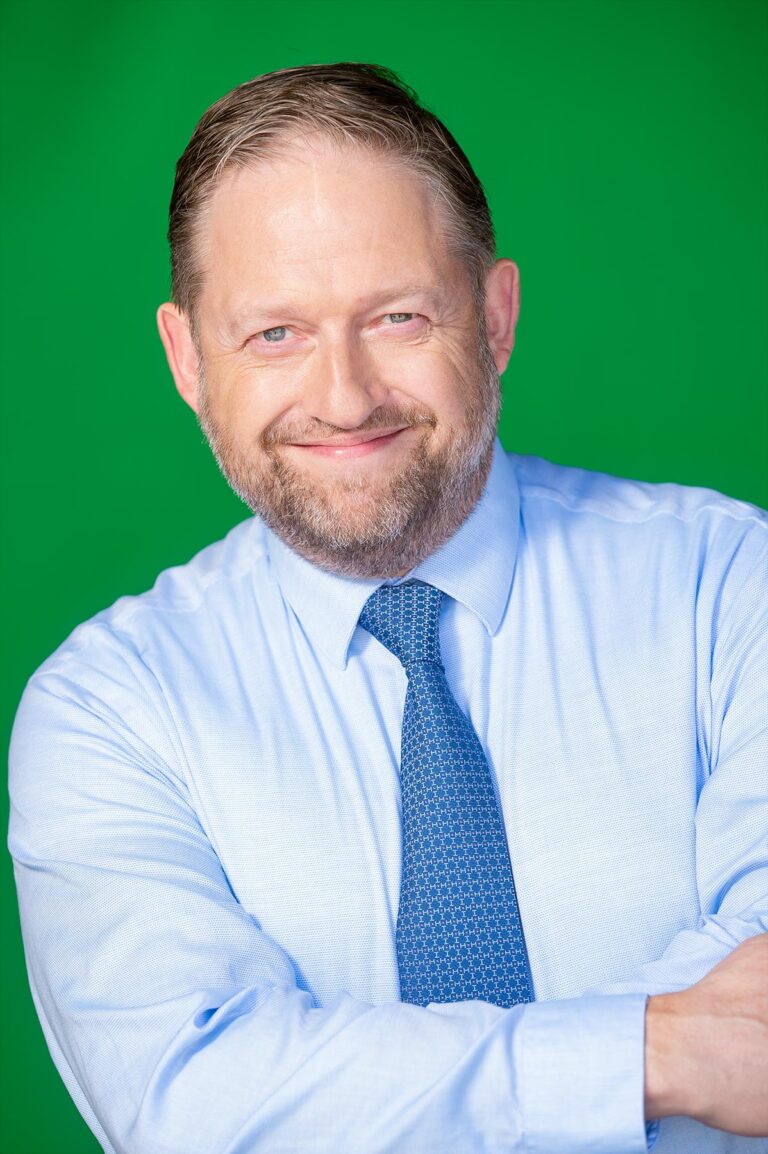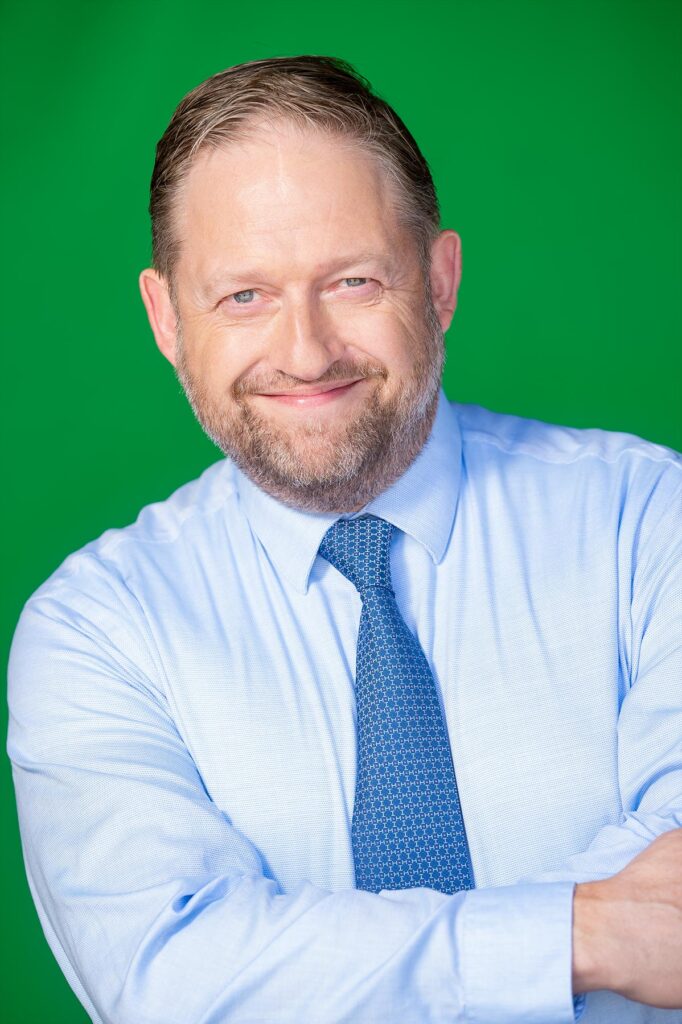 When requested all images will be shot with the greenscreen as a background. When you choose your final edits, we'll add your choice of colors, textured or studio backgrounds. And you can come back later to have them changed for a small fee.
In addition to the tips we provide, please make sure your wardrobe does not include any green color. While it is possible to separate a green shirt from a green background, it is not ideal.
If you are proficient with Adobe Photoshop, we've found that the plugin Key36 works the best for separating hair. Randy has spent many years refining his greenscreen technique to ensure that your custom headshots blend seamlessly into the desired background. His skill with the camera and direction creates an engaging and professional atmosphere that will give you a memorable experience. As a result you can feel confident that this type of shoot will yield tremendous benifits in all of your promotions.